Introducing January's Product Spotlight
Seed and Bean's Product Spotlight is our way of listening to our community and customers. Each month we are highlighting and educating you on a CBD product and their benefits, uses, ingredients and more! Read more about January's Product Spotlight, cbdMD Gummies below!
CBD GUMMIES
cbdMD's gummies have delicious flavor, perfect texture and are made with quality ingredients. The quality of their products is proven in the consistency as they manufacture and preserve the properties of the CBD they use to ensure quality and dose in every product. The CBD also comes from hemp plants grown right here in the US!
What do they taste like?
cbdMD gummy flavors combine tropical, strawberry, orange, and raspberry flavors.
BENEFITS OF CBD GUMMIES (cbdMD)
Our pure, hemp-based CBD extract provides a wide variety of whole-body benefits:
Support a sense of calm
Manage signs of common daily stress
Enhance exercise recovery
Complement everyday wellness routine
All products are tested to be THC-free*
"THC-free"* means THC levels are too low to be detected by standard scientific instruments.
DIRECTIONS FOR BEST RESULTS (cbdMD)
Start with one gummy in the morning and one in the evening.

Gradually increase amount/concentration as needed.

Consistency is key when starting a new supplement regimen. Take daily for 30 days for best results.

Store at room temperature out of direct sunlight.
Shop cbdMD Gummies for a limited time discount of 10% off during the entire month of January 2021!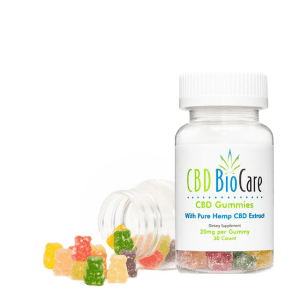 Related products
CBD BioCare Gummies
Who doesn't love a gummy? Pack them with CBD and it's a treat that can do more than just taste good. Each gummy is dosed with 20mg of organically grown CBD.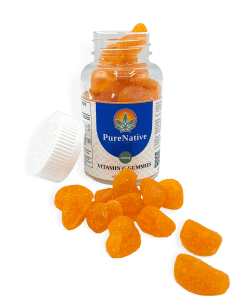 Related products
PureNative CBD and Vitamin C Gummies
PureNative's Nano-CBD Vitagummies are chewable CBD rich gummies which include Vitamin C to get your day started!