Introducing July's Product Spotlight
Seed and Bean's Product Spotlight is our way of listening to our community and customers. Each month we are highlighting and educating you on a CBD product or products and their benefits, uses, ingredients and more! Read more about July's Product Spotlight, PureNative Beverage Enhancers below!
PureNative Beverage Enhancer
PureNative is a Premium Hemp Extract company from Fort Myers, Florida. This brand has rolled out Seed & Bean Market's most unique products such as this month's Product Spotlight, PureNative Beverage Enhancers.
These flavored CBD beverage enhancers are water soluble, meaning it dissolves in the water instead of leaving a film like layer on top of your beverage.
Instructions for use: One squeeze to enhance 8fl oz serving of water.
Why consume CBD?
Depending on your metabolism this product typically takes 5-7 minutes to begin working, making it much faster acting than a tincture or an edible. Designed to work quickly, this product is most beneficial for symptoms that you are hoping to remedy with CBD in a shorter period of time.
Typically, many tincture or edible products take anywhere from 30 minutes to an hour to digest, depending on your metabolism. The CBD in this product is nano emulsified, making it easier and quicker to absorb into the body. Many people also turn to our PureNative Beverage Enhancers if they feel uncomfortable holding oil (tincture) products under their tongue.
How to use the CBD Beverage Enhancers?
The typical instructions for use are one squeeze to enhance 8fl oz serving of water. But why stop there? This product is a fun, unique way to consume CBD by adding it to water, tea, or any other beverage you like! Whether you use this product as a 2pm pick-me-up, pre-workout energy boost or an ingredient in your favorite mocktail, this product is a fan favorite as it travels well and tastes great!
Have fun experimenting with your favorite beverage recipes or try some of ours! Below are a few mocktails, exclusively at Seed & Bean Market. Stop in for our happy hour specials and CBD mocktails!
CBD FRUIT PUNCH SANGRIA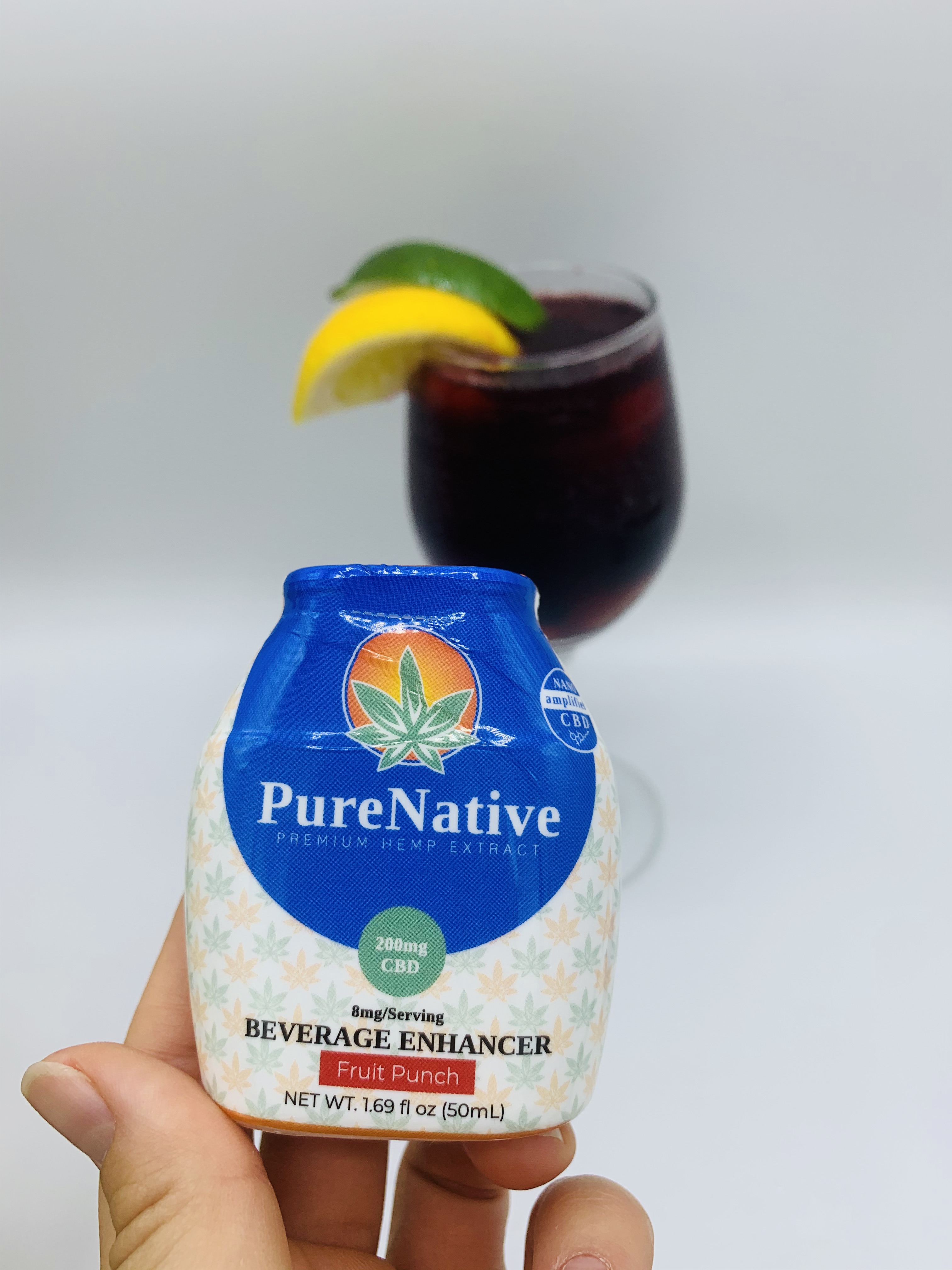 CBD LEMONADE WINE SPRITZER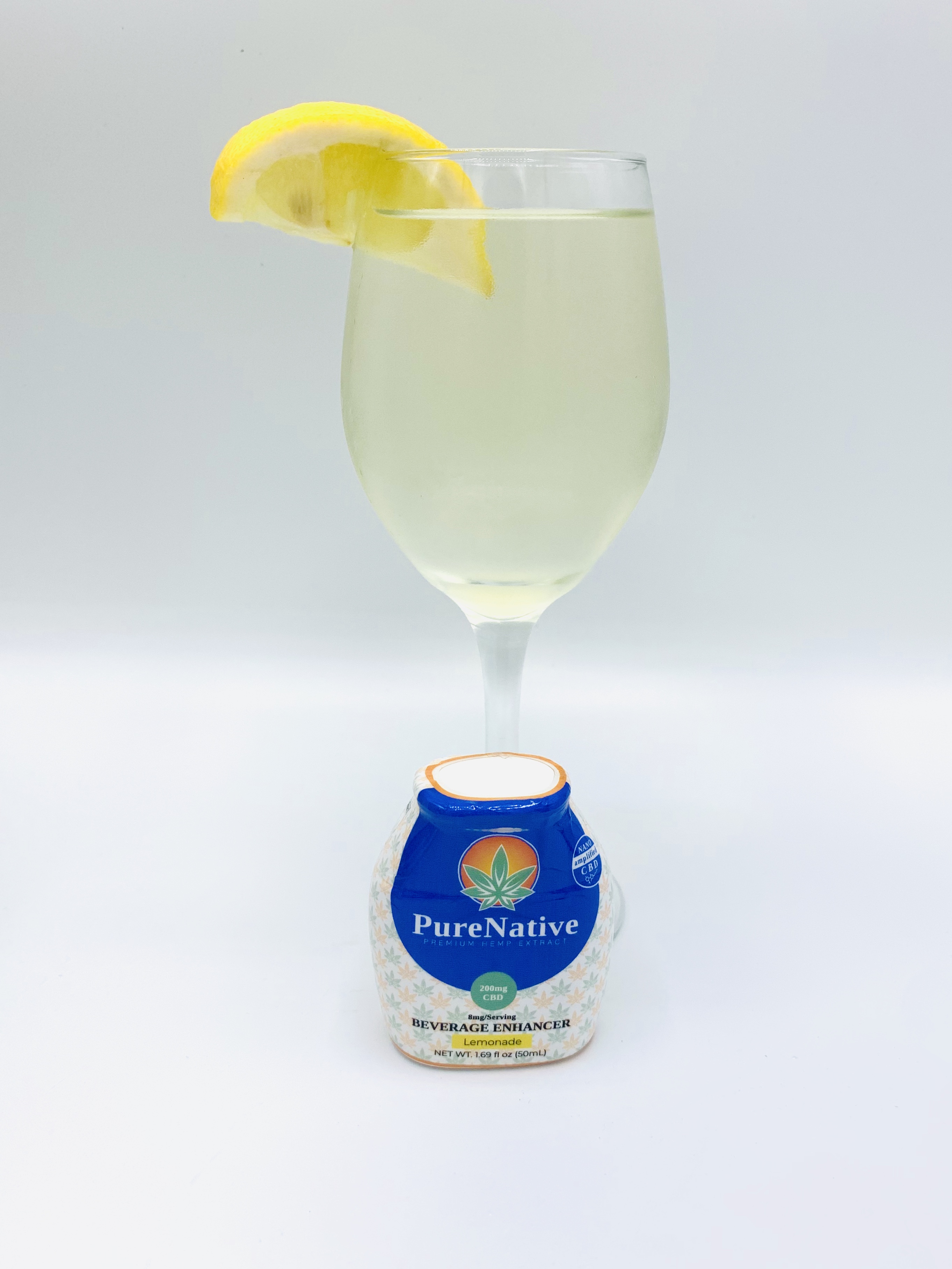 OR LITERALLY ANYTHING ELSE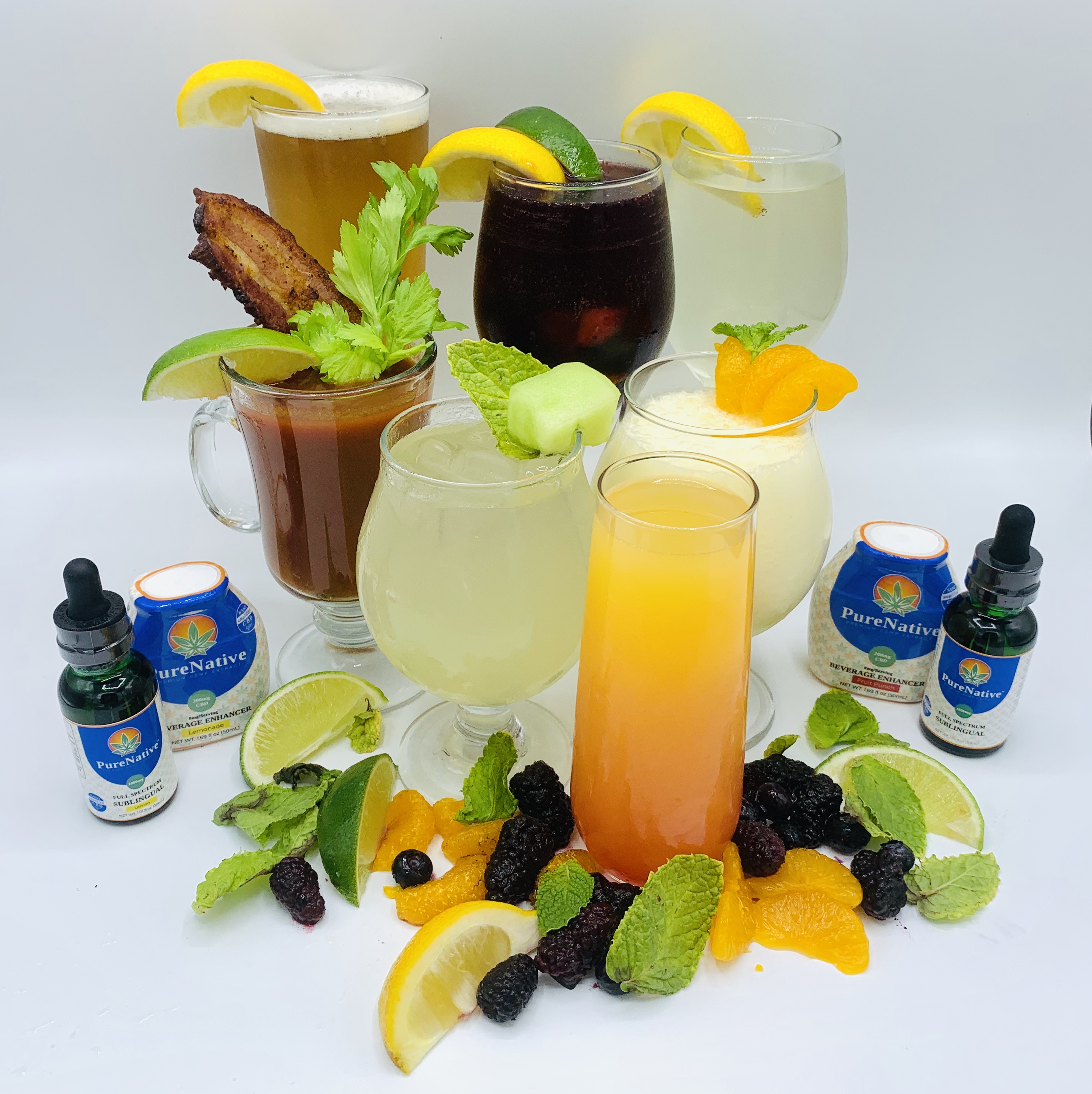 This product includes three of the eight B Vitamins which are commonly known as the "energy vitamins" as they are essential in producing energy through converting and metabolizing the proteins, fats and carbohydrates you eat into a source of energy for your body.
So, what's in it?
Nano emulsified CBD: Nano emulsified CBD is the process of breaking CBD molecules down into a much smaller form to increase the efficiency of the products delivery into your body and endocannabinoid system.
B-12: is commonly used to boost energy and help with memory functions
B-3 (Niacin): is used to help boost brain function and to improve skin conditions and may even reduce symptoms of arthritis.
B-5 (Pantothenic Acid): is necessary for making blood cells and helps you convert the food you eat into energy
Vitamin C (Ascorbic Acid): commonly used to boost immunity, collagen formation, and bone, teeth and cartilage maintenance.
Shop Similar products:
Check out these products, sold online and in store. 
Related products
Seed & Bean Market Stainless Steel Bottle
Matte black bottle with gloss black hemp leaf design around the entire bottle
Related products
CBD Coffee Pods
Creating Better Days nano-emulsified CBD Infused Coffee Pods, enjoy the taste of quality coffee and relief with every sip.