Introducing November's Product Spotlight
Seed and Bean's Product Spotlight is our way of listening to our community and customers. Each month we are highlighting and educating you on a CBD product and their benefits, uses, ingredients and more! Read more about November's Product Spotlight, PureNative Water Soluble below!
PureNative Water Soluble CBD
PureNative's Water Soluble is 850mg of Nano-CBD Drops for fast-acting absorption in water-based products. This is the ideal
CBD additive for water-based cooking and beverages such as coffee, tea, and mocktails!
What is Water Soluble?
Water Soluble CBD was created to help CBD users infuse CBD with their water based recipes from coffee and tea to mocktails and more!
Why use it?
This product is Nano-CBD drops for fast acting infusions in water based products. Water soluble refers to a CBD oil that undergoes a Nano-emulsifying process to break the oil into smaller particles. Those smaller particles disperse through the water increasing the surface area of the oil, which allows the body to absorb CBD at a higher rate. Compared to oil based CBD this product disperses better in water, absorbs faster and more readily by the body.
During Seed & Bean Market's CBD Infused Plant Based Cooking Series, attendees learned the importance of the infusing water soluble CBD products with water based recipes and oil based tinctures for oil based recipes. Understanding the difference will help you take your CBD infusion recipes to the next level! 
How to use it:
The recommended dose is directed to dose a recipe or beverage at .5mL, as needed. However, if you are new to CBD, or cannabis in general, try taking half of the recommended dose and gage your use of this product based on personal experience and desired effects. Store the tincture in an upright position where the temperature is stable and it is protected from extreme heat, light and moisture. Shake well before use. 
Shop PureNative Water Soluble for a limited time discount of 10% off during the entire month of November 2020!
Shop Similar products:
Shop our Virtual Worker products online and in store! See similar featured products below.
Related products
PureNative Neutral Sublingual Oil
PureNative's Full Spectrum Nano-CBD Oil is the perfect blend of over 100 different cannabinoids coupled with fast absorption technology and hemp seed oil to deliver pure relief for everyday use.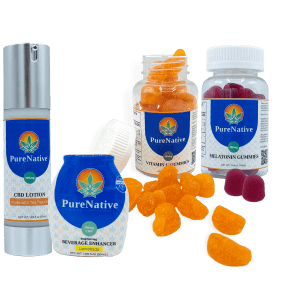 Related products
Virtual Worker Package
Working from home has been an big adjustment for many people. That is why we put together the perfect Virtual Worker package for the modern day lifestyle.